Metrology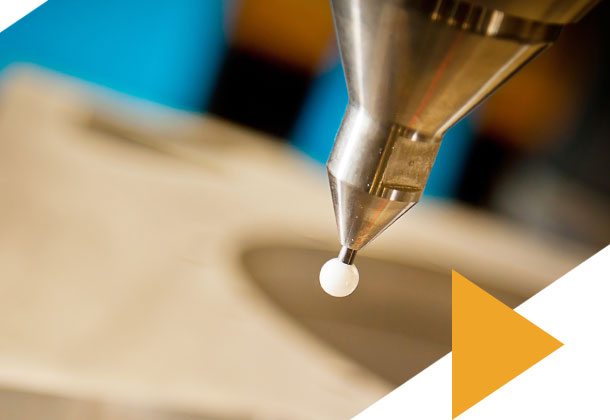 AB Serve puts in the service of the industrialists its measure equipment and its team of experimented and specialized in mobile 3D metrologists.
Capable of taking care of the calibration of 2D measurement tools, AB Serve is also equipped with the best machines of current mobile three-dimensional measures (MMT). Benefiting in particular from the technology of the group FARO, AB Serve's experienced metrologists team meets the two-dimensional and three-dimensional measures needs of industrialists of any sectors.
This association of skills and technologies allows to realize 3D measures of high precision by palpation or scan without contact on all kinds of parts, in production, on finished products or at AB Serve's, in its dedicated laboratory.
Endowed with several arms and a column of measure, with marble, with 2D measuring instruments, and with software of metrology, CAD and follow-up of control of measuring instruments, this laboratory allows measurement, parts or assemblies' inspection, initial sample testing, in constant optimized conditions of hygrometry and temperature.
The precision, the speed of measure and the maneuverability of these mobile 3D measurement tools allow a vast range of applications :
Element digitization for archiving or creation,
Three-dimensional measures allowing reverse engineering in case of loss or unavailability of plans,
Initial sample testing, and pre-series inspection,
Shape control by bi- or three-dimensional measures based on CAD-CAM,
Machines lining-up and gauging.
AB Serve also offers a wide range of measuring arms for rental (volumetric capacity ranging from 1.2m to 2.7m).
---
AB Serve's Metrology assets :
▷ Scan and palpation measurement
▷ Work spherical volume capacity ranging from 1.2 m to 2.7 m
▷ Repeatability ranging from 0.024 mm to 0.064 mm
▷ Temperature sensors
▷ Integrated 3D metrology laboratory